You can see examples of the wide range sold in our store - FOLKLORIKA. To enlarge a picture, click on it.
Small gifts
LATEST NEWS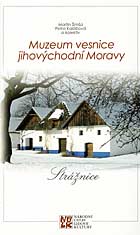 V naöŪ prodejnž FOLKLORIKA si nynŪ mýěete zakoupit velmi hodnotnou publikaci s nŠzvem "Muzeum vesnice jihovżchodnŪ Moravy", kterŠ VŠs seznŠmŪ s podrobnostmi tżkajŪcŪmi se strŠěnickťho skanzenu.
Cena knihy je 150 KŤ .
EXAMPLES OF OUR RANGE OF PRODUCTS
To enlarge click on the picture
LINKS